Price monitor
Price Monitor is an online application monitoring current medicinal product prices in Europe available as the Software as a service (SaaS). Price Monitor offers not only always-up-to-date price database but is also a powerful tool for international reference pricing (IRP), competitor tracking and historical trends analysis. Price Monitor can help you with your launch sequence designing and price negotiation with regulatory authorities. In selected countries, an automatic calculation of maximal price or reimbursement according to valid regulations is available. Cogvio cooperates with regional consulting leaders to ensure top-notch business domain knowledge validating all features.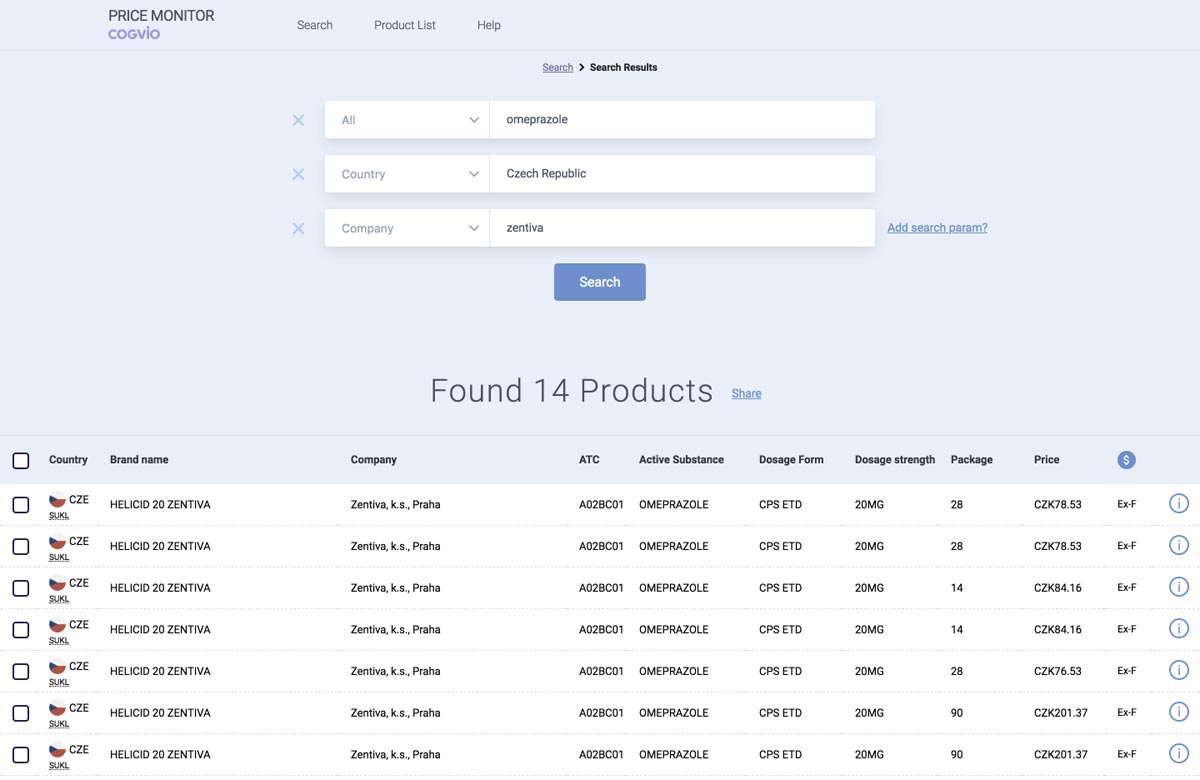 01
Pricing and Reimbursement
Majority of EU member states apply IRP or cross-reference pricing. Price Monitor is an alternative to (still very often) manual time-consuming search in reference sources. Tasks lasting hours can be done with a few clicks in Price Monitor. Moreover, once created the reference group persists in the Price Monitor and is automatically updated - each next IRP is simple.
Price Monitor allows you to rapidly search relevant data and display prices on the various level of the distribution chain (ex-factory, wholesale, retail). Single products or product groups can be easily controlled by an immediate, weekly or monthly email alerts on price changes. Price Monitor offers the convenient feature of data export for your own in-house analysis and reporting.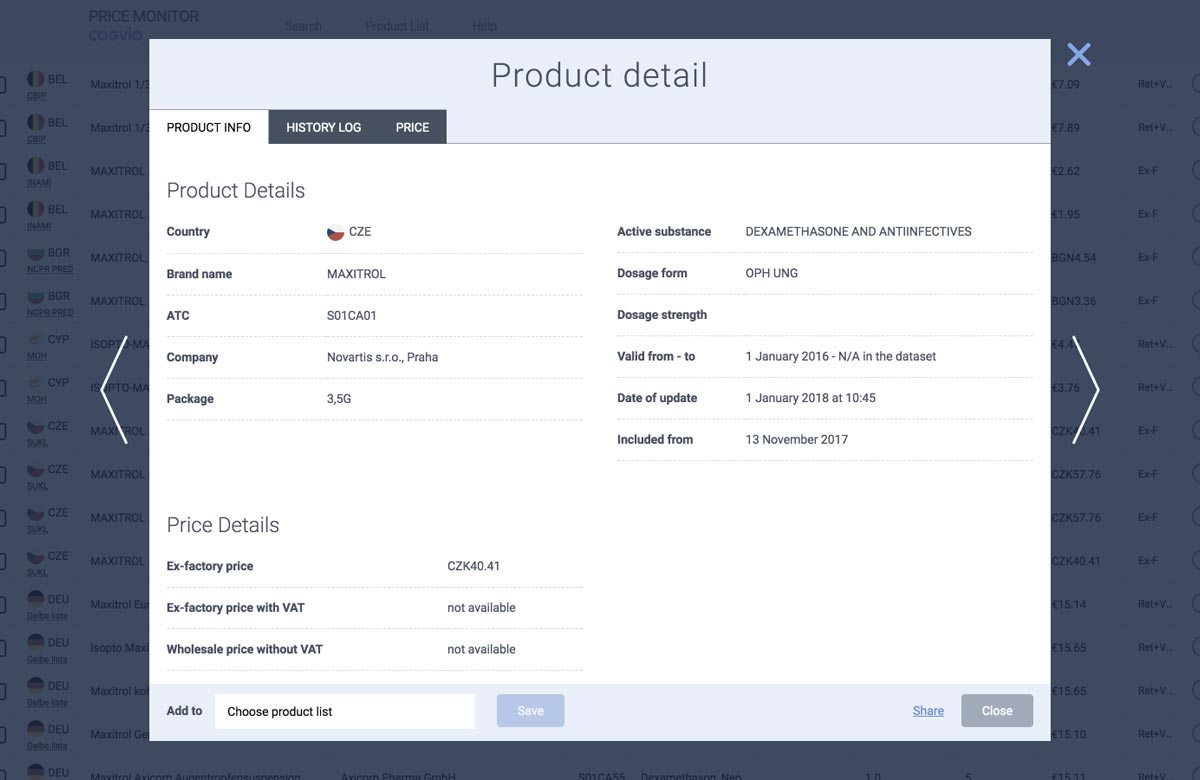 02
Competitor or Regional Market Intelligence
Keep the track of competitor prices and be informed about the approval of new competitor products! Our application allows an effortless monitoring of full ATC classes or specific active-substance containing products in various countries. Set-up the alert system and do not waste time with the manual data search and validation. History of each product is tracked and can be shown in a text or graphical format.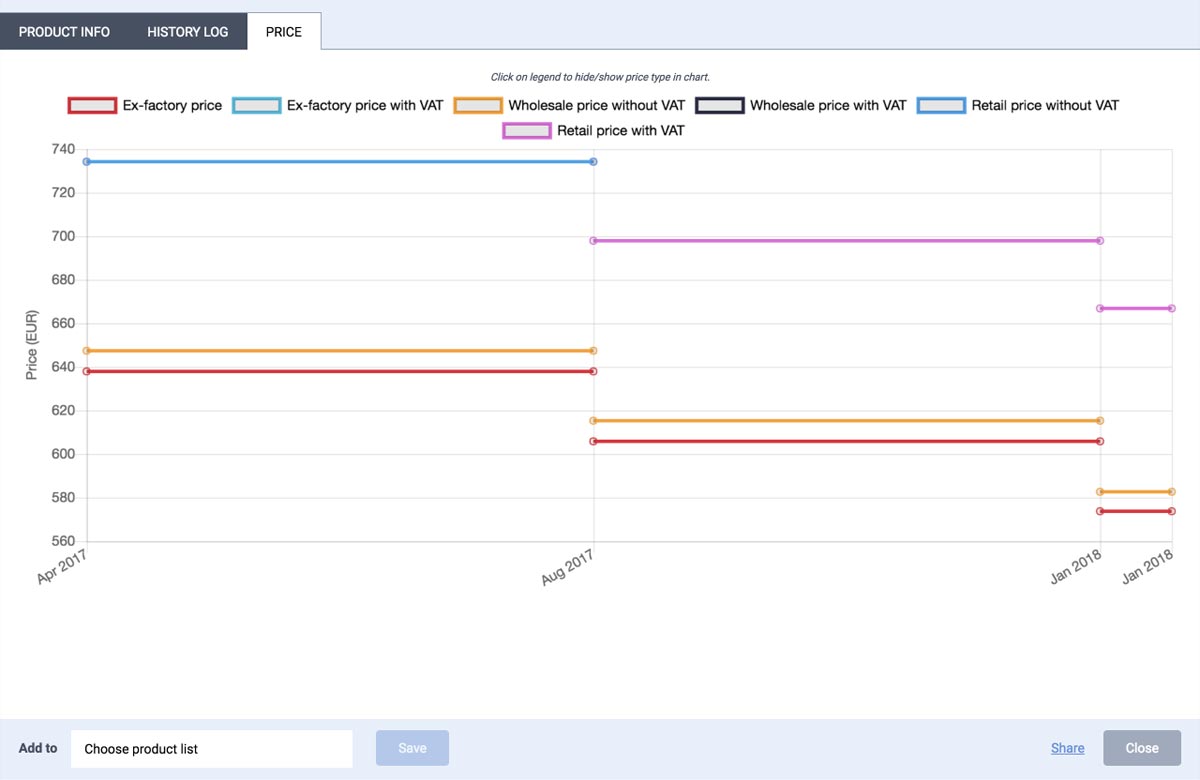 03
Market Planning and Predictions
Price Monitor can help you with the budget planning for price swings. Our clients use price monitor for reporting to the headquarter, modeling the "what-if events", such as regulatory price revisions and currency exchange rates changes.
We know that pricing optimisation is one of the top strategic priority of pharmaceutical companies. Price Monitor data can assist you with the launch sequence design and key strategic planning.